Just thinking about how almost exactly a year ago I performed at Nice 'n' Sleazy in Glasgow wearing a pink feather boa and a nasty t-shirt - sweet memories!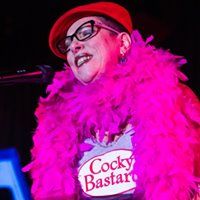 I don't have a performance schedule, performing just materializes from time to time. The only thing these events have in common is that they are a bit odd. Like playing at Book at Bedtime in a bookshop for the Wigtown Book Festival, dressed in a nightshirt and nightcap like Wee Willie Winkie. Or being the opening act last summer in the unforgettable Bob's Back Passage at the Eden Festival.
But it looks like my next outing could be coming up quite soon, either at a music school or the home of a brilliant musician and singer/songwriter in Brooklyn NY, a kind of soiree / house concert / jam.  
Brooklyn is where I studied art and worked in a deli so long ago it's like a past life.  Looking forward to the surreal sensation of going back in a new incarnation.  If this event happens, I am told it will be on Saturday night the 8th of December.  That's all I know right now, but should it materialize details will follow next week.